In many cases, the Entrepreneur finds it difficult to know who they should target as a potential buyer for their business.  At first glance, any buyer with a checkbook may be attractive. In practice, finding the right business buyer type when selling a business is both an art and a science.
Similar to selling commercial real estate, knowing who the buyers are and what motivates them is beneficial.  Likewise, when determining the asking price for a business, it makes good sense to understand the nuances associated with the various types of business buyers.  Doing so will improve the entrepreneur's likelihood he will receive the maximum net cash from the sale.
The strategic buyer explores ways to improve their own business value through the acquisition of other related businesses with the ultimate intention of eliminating redundant expenditures and searching for new, bigger opportunities post-closing. These types of buyers are called "Strategic Buyers" because their priority is to look for acquisition opportunities that align with their core strategy.
Because the strategic buyer's post-closing acquisition has the potential to create a more profitable and likewise more valuable business once duplicated expenditures are eliminated and new opportunities for growth are uncovered, the strategic buyer is likely to pay the seller a premium for his business.
Selling a business to a strategic buyer is a good option for business owners looking for a lucrative exit, who aren't necessarily concerned with the future direction of the company, as many times redundant employees or departments will be eliminated.
Financial Buyers / Private Equity Groups
Financial buyers and private equity groups are seeking businesses in need of capital, leadership and management processes.  According to Forbes, financial buyers are the least common for small and middle market businesses. Often, teams of investors, private equity groups, MBA's, former Fortune 500 Executives and entrepreneurs will pull their resources to acquire larger, profitable businesses with the intention of investing in it, and reselling it.
These financial buyers also source opportunities through networking prospects, like LinkedIn.  They search for ways to create new opportunities, improve processes and lead through their connections. They do so without the benefit of another business on the sideline offering synergy.
The value of a business to a financial buyer is tied to what has happened in the past and typically a premium is not paid to the seller.
A financial or private equity buyer is a good option for a seller who wants the business to grow to its full potential, thanks to the resources that will be made available to it once the purchase is complete.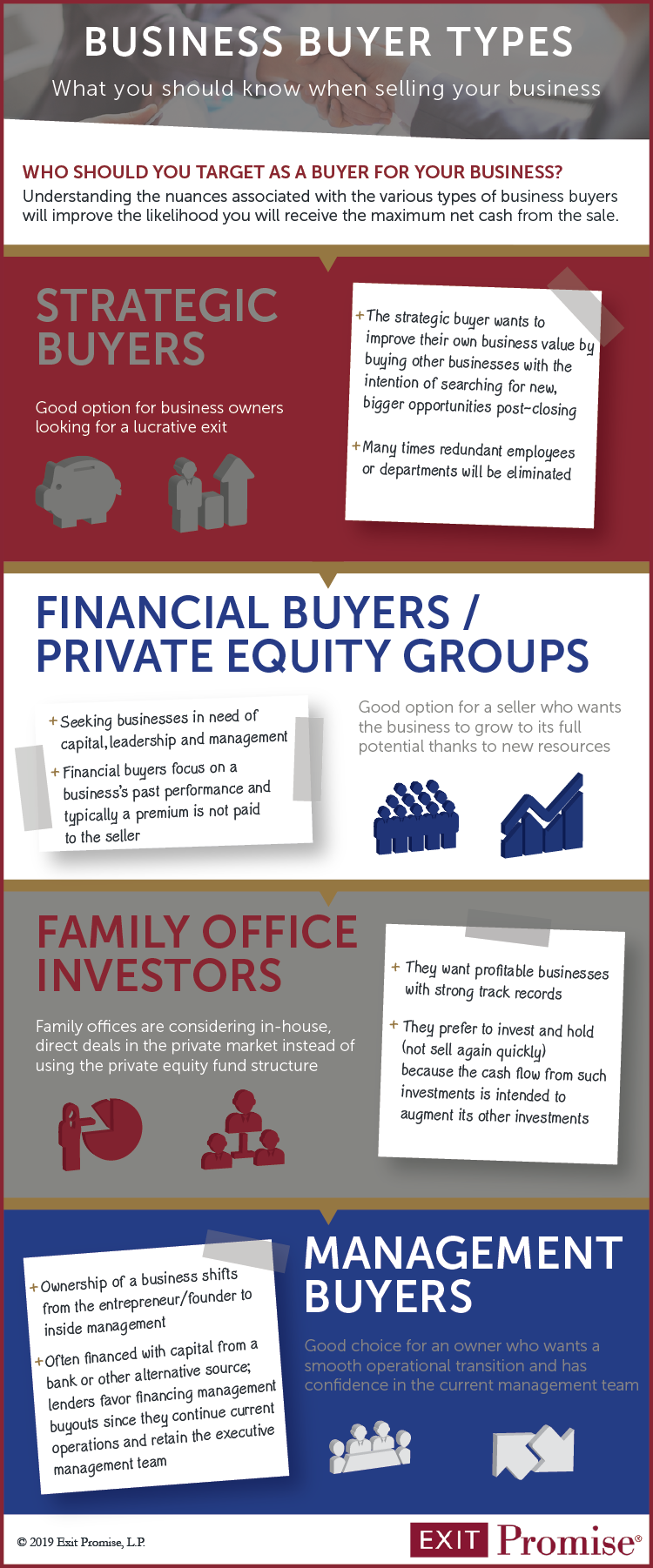 In recent years, the family office investor has entered the private markets as a new type of direct buyer of lower-to-middle market businesses.  Very similar to financial buyers, they want to look at profitable businesses with strong track records. However, the family office investor is not as interested in selling the business to new owners any time soon.  They prefer to invest and hold because the cash flow from such investments is intended to augment its other investments.
Traditionally, family offices would invest in large private equity funds alongside other large investors such as public pension plans.  According the Pitchbook, 2018 Annual Private Fund Strategies Report, family offices are considering in-house, direct deals in the private market instead of using the PE fund structure.
In many cases selling a business to the existing Management Team may be an ideal alternative to a third party sale.  Management Buy Outs, also known as an 'MBO's' are similar in many ways to a Management Buy In, or 'MBI'. In either case, ownership of a business shifts from the entrepreneur/founder to inside management. This may also result in a transfer of complete ownership to a business partner or family member, depending on their position in the business and desire to take ownership.
It's not unusual for an MBO/MBI to be financed with capital from a bank or other alternative source, which minimizes the amount of cash needed from the management group. Lenders typically favor financing management buyouts since they promise to continue current operations and retain the executive management team, reducing the financial risk.
Selling a business to a management buyer is a good choice for an owner who wants a smooth operational transition, and values and has confidence in their current management team.
Buyers looking for businesses to acquire compete fiercely for good opportunities.   For the entrepreneur who has nurtured and grown a valuable business, he should expect multiple offers from a variety of sources.  Regardless of the buyer type presented during the selling process, armed with knowledge and sound advice, he should be well-prepared for a successful sale.
Click to rate this post!
Total Votes:

12

Average Rating:

5
Latest posts by Holly Magister, CPA, CFP
(see all)