Latest posts by Holly Magister, CPA, CFP
(see all)
Have a Question? Add it to the bottom of this post!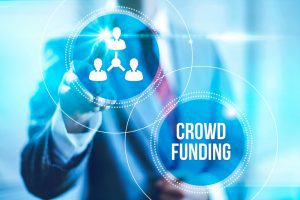 Crowdfunding is an alternative method of financing for the small business owner who wants to raise business capital from a large number of people or organizations. Today, crowdfunding has become an increasingly popular method of financing – not only for small businesses, but also for individuals, groups, and communities. Although this method of financing can be successful, there are a number of factors to consider before using crowdfunding to finance your business.
What should a small business know about crowdfunding when they raise business capital?
Crowdfunding is only one way to raise business capital and despite its recent popularity among startups and the media, it may not be the best option for your business.
It is always a good idea to consider using your own capital to start or grow a business before taking on any other form of capital. For instance, bank loans come at a cost including interest and often an agreement to meet various financial targets. Similarly, when you raise capital from friends and family, there may be negative consequences to your personal relationships if the business fails.
As for crowdfunding, it is intended to help relatively small businesses that have a defined purpose and business plan. And there are many steps that must be taken to ensure raising capital through Crowdfunding does not run afoul of the laws established in May of 2016, known as SEC-Regulated Crowdfunding. For example, the business, its owners, officers, and directors may not be convicted criminals or have regulatory orders against them.
Are resources available to help small businesses find the right crowdfunding site for their needs?
If it's decided that using Crowdfunding is appropriate, the business owner needs to find a funding portal or broker/dealer to serve as an intermediary to facilitate raising the capital. This intermediary serves many purposes, not the least of which is to monitor the eligibility of various investors based on their individual income or net worth.
Under current law, the intermediary must be a member of FINRA so it's wise to consult with their official site to determine which intermediaries are registered: https://www.finra.org/about/funding-portals-we-regulate
Should you protect your company (patents/trademarks, etc.) before doing any crowdfunding?
I am a big advocate of protecting your company's intellectual property (IP) — early and often! Once you've done so, it's going to be much more difficult for a third party to use what you've developed for their own gain.
It's also well worth noting when you choose to raise capital by crowdfunding, you are selling shares of your business. That means a lot of people and other businesses will be examining your business closely. So protecting your IP before you open that door, just makes good sense.
Click to rate this post!
Total Votes:

0

Average Rating:

0