It's difficult to get started on the right path.
Which is exactly why we created ExitPromise.
Over the past 10 years, our Featured Advisors have helped more than one million business owners, like you.
And we don't plan on slowing down anytime soon.
Our Latest Startup Blog Posts: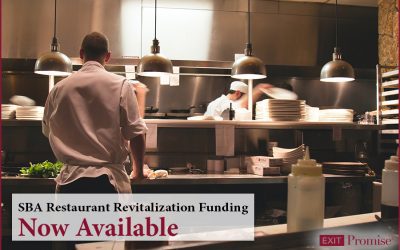 On Monday, May 3rd, 2021, the Small Business Administration (SBA) opened its application portal for the Restaurant Revitalization Funding (RRF) to certain restaurants, bars and other similar businesses that serve food and/or drink which have suffered a reduction in revenue in 2020 when compared to 2019 as a result of the pandemic.
Similar to the Paycheck Protection Program Loan (PPPL) program, this federally-funded program is intended to provide cash to businesses which have suffered revenue losses and if spent on the proper types of expenses within a specific period of time (the Covered Period), the loan may be fully-forgiven by the SBA.
read more
Click for Additional Posts on These Topics: