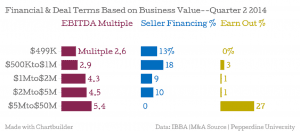 Small business owners have an opportunity to learn from their peers who have attempted and failed or, more importantly, have successfully sold their business during the second quarter of 2014.
The International Business Broker Association (IBBA) and M&A Source, in partnership with the Pepperdine University, have summed up survey results from 250 respondents about businesses being marketed and sold in the United States. Keep Reading…
Holly A. Magister, CPA, CFP®, is the founder of Enterprise Transitions, LP, an Emerging Business and Exit Planning firm. She helps entrepreneurs assess, re-align, and accelerate their business with the intent of ultimately executing its top-dollar sale.
Holly also founded ExitPromise.com and to date has answered more than 2,000 questions asked by business owners about starting, growing and selling a business.
Latest posts by Holly Magister, CPA, CFP