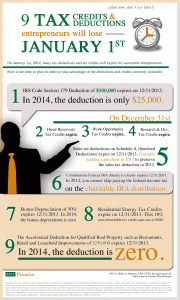 As we approach the end of 2013, it's important for entrepreneurs to understand the 2014 federal tax changes as well as the various tax consequences of Obamacare as they begin to unfold.
One of the tax changes involves the reduction or outright elimination of tax deductions and/or tax credits effective on January 1st, 2014. In the past, many such expiring tax deductions and tax credits were extended by Congress. Most advisors do not expect this to happen again so it's wise to pay close attention to the reductions and expirations in the tax code.
This Infographic depicts the 2013 expiring tax provisions.  Read more…
Holly A. Magister, CPA, CFP®, is the founder of Enterprise Transitions, LP, an Emerging Business and Exit Planning firm. She helps entrepreneurs assess, re-align, and accelerate their business with the intent of ultimately executing its top-dollar sale.
Holly also founded ExitPromise.com and to date has answered more than 2,000 questions asked by business owners about starting, growing and selling a business.